Indiana targets abortion pill: House drops ultrasound provision
Indiana's new abortion pill legislation, passed by the Indiana House today, would limit distribution of the abortion pill.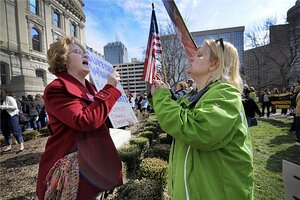 Alan Petersime / The Indianapolis Star / AP / File
A bill that would tighten state laws on distribution of the abortion pill and require clinics that provide only drug-induced abortions to meet the same standards as clinics that perform surgical abortions was approved by a wide margin Tuesday in the Indiana House.
The proposed facility rules likely would cover only a single Planned Parenthood clinic in Lafayette, but abortion opponents say the requirements would prevent the opening of other clinics around the state that would distribute the abortion pill.
The 70-26 vote by the Republican-controlled House in favor of the bill comes a week after a House committee dropped Senate-approved provisions that would have put into law a requirement that doctors perform an ultrasound on women before giving them the abortion drugs. Planned Parenthood of Indiana said its doctors typically perform ultrasounds before any abortions, but opposed mandating medical procedures by law.
Rep. Sharon Negele, R-Attica, said during Tuesday's debate that whatever type of ultrasound procedure is done will be up to the doctor but that the bill would make it a felony for a doctor to give a woman the abortion pill if she was more than nine weeks pregnant.
"From my beginning, my intent was to seek out a remedy to safeguard our young women who have chosen this path," said Negele, the House sponsor of the bill.
Planned Parenthood officials have said the additional standards are unnecessary and would force the Lafayette clinic to follow rules such as the size of procedure and recovery rooms even though its only abortion service consists of doctors providing pills. The group has said if the bill becomes law it would keep the Lafayette clinic open to continue providing services such as birth control and screenings for cancer and for sexually transmitted diseases, but would have to review whether it can afford a remodeling project to continue distributing the abortion pill.
---