Final Four start time: Louisville vs. Wichita State
The first game of Saturday night's NCAA Final Four playoffs will be No. 1 seed Louisville vs. No. 9 seed Wichita state. Why Louisville is the sentimental favorite even against the Cinderella team.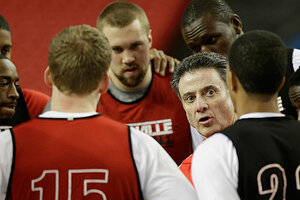 AP Photo/John Bazemore
Tip-off time is nearing. Time to see if Louisville can live up to the hype or one of those other guys can turn the Final Four into their party.
The Cardinals are not only the favorites to win the national championship, they've become sentimental favorites, as well, after rallying around Kevin Ware, the guard whose compound leg fracture in last week's regional final turned stomachs, while also warming hearts and setting the story line for this week in Atlanta.
"With Kevin going down, especially the way he did, it's just making us play harder," Louisville forward Wayne Blackshear said Friday.
In Saturday's opening national semifinal at the Georgia Dome, the Cardinals — No. 1 seeds in the entire tournament — play ninth-seeded Wichita State, which has sprung upsets of Gonzaga and Ohio State en route to that program's first Final Four appearance since 1965.
The game starts at 6:09 p.m. EDT and will be televised on CBS.
The second NCAA semifinal pits a pair of No. 4 seeds, Michigan and Syracuse, two programs with plenty of tradition but largely considered subplots in a week dominated by Louisville and Ware. (To say nothing of the news going down at Rutgers, where video of coach Mike Rice hitting players led to his ouster, the departure of the athletic director and other problems.)
---