Immigrants rally in Boston in support of reform
About 800 immigrants and their supporters rallied at Faneuil Hall in Boston Saturday. Sen. Elizabeth Warren and Rep. Joseph Kennedy III spoke in favor of comprehensive reforms at the event.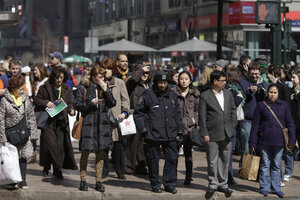 Seth Wenig/AP
Hundreds of immigrants and their supporters rallied in Boston on Saturday to pressure Congress for a comprehensive overhaul of immigration laws that would include a path to citizenship for the 11 million foreign-born citizens living in the United States illegally.
Organizers say about 800 immigrants, community activists, representatives of workers' groups and political leaders rallied at Faneuil Hall. They marched to the nearby John F. Kennedy federal building that houses US Immigration and Citizenship Services offices and the local immigration court.
The rally was one of the first events of the "Power Up for Citizenship" initiative that immigrant rights advocates are launching nationwide. In New England, a similar rally was scheduled for Nashua, N.H., on Saturday and in Providence, R.I., on Sunday.
The rally occurred as bipartisan immigration legislation is taking shape in the Senate. The debate has focused on securing the border, creating a path to citizenship for immigrants in the country illegally, designing a new visa program for low-skilled workers outside of agriculture, finding ways to keep businesses from employing people who are in the US illegally and improving the legal immigration system.
"Until we pass comprehensive reforms, we don't have a done deal here — that's why we are having these rallies, to hold the feet of elected officials to the fire," said Jason Stephany, spokesman for MassUniting, a coalition of community groups, faith organizations and labor groups, which helped organize the rally. Other organizations behind the initiative include the Massachusetts Immigrant and Refugee Advocacy Coalition and Service Employees International Union.
---