Kansas passes anti-abortion bill declaring life begins 'at fertilization'
Kansas state legislators passed a bill Friday declaring life begins at fertilization and blocking tax breaks for abortion providers. While it doesn't ban abortions outright, abortion-rights advocates argue the bill could be used to threaten services.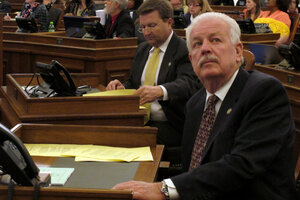 John Hanna/AP
Kansas legislators gave final passage to a sweeping anti-abortion measure Friday night, sending Gov. Sam Brownback a bill that declares life begins "at fertilization" while blocking tax breaks for abortion providers and banning abortions performed solely because of the baby's sex.
The House voted 90-30 for a compromise version of the bill reconciling differences between the two chambers, only hours after the Senate approved it, 28-10. The Republican governor is a strong abortion opponent, and supporters of the measure expect him to sign it into law so that the new restrictions take effect July 1.
In addition to the bans on tax breaks and sex-selection abortions, the bill prohibits abortion providers from being involved in public school sex education classes and spells out in more detail what information doctors must provide to patients seeking abortions.
The measure's language that life begins "at fertilization" had some abortion-rights supporters worrying that it could be used to legally harass providers. Abortion opponents call it a statement of principle and not an outright ban on terminating pregnancies.
"The human is a magnificent piece of work at all stages of development, wondrous in every regard, from the microscopic until full development," said Sen. Steve Fitzgerald, a Leavenworth Republican who supported the bill.
Abortion opponents argue the full measure lessens the state's entanglement with terminating pregnancies, but abortion-rights advocates say it threatens access to abortion services.
---