FBI investigating possible extortion at Rutgers
Eric Murdock, the Rutgers employee who provided video of ex-coach Mike Rice verbally and physically abusing basketball players, may have tried to extort the university before releasing the video.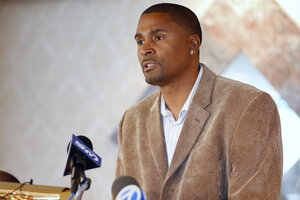 Rich Schultz/AP
The FBI is investigating whether a former Rutgers basketball employee tried to extort the university before he made videos that showed ex-coach Mike Rice shoving and kicking players and berating them with gay slurs.
A person familiar with the situation told The Associated Press on Sunday that investigators are interested in Eric Murdock, who left his job as the men's basketball program's player development director last year and later provided the video to university officials and ESPN.
The person spoke on condition of anonymity because the inquiry has not been announced. The investigation was first reported by The New York Times.
A spokeswoman for the FBI's Newark office said the agency would not say whether there is an investigation. Murdock's lawyer did not return a call to the AP on Sunday. A Rutgers spokesman referred questions to the FBI.
A December letter from Murdock's lawyer to a lawyer representing Rutgers requested $950,000 to settle employment issues and said that if the university did not agree by Jan. 4, Murdock was prepared to file a lawsuit. The letter was obtained last week by the AP and other media outlets.
No settlement has been made. The video became public last week, and Murdock on Friday filed a lawsuit against the university, contending he was fired because he was a whistleblower trying to bring to light Rice's behavior.
The video's release last week set off a chain reaction that led to Rice's firing and the resignations of athletic director Tim Pernetti, the university's top in-house lawyer and an assistant basketball coach. Some critics want the university's president, Robert Barchi, to resign.
---