Louisville king of NCAA basketball realm after beating Michigan, 82-76
Led by senior guard Peyton Siva and junior Luke Hancock, the Cardinals overcame a 12-point deficit Monday night and rallied for the school's third NCAA men's national championship.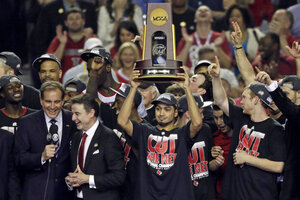 Chris O'Meara/AP
Rick Pitino held court in a tunnel beneath the Georgia Dome, going on and on about the grittiest bunch of guys he's ever coached.
One of them sat in the corner of the locker room, a net around his neck, grinning away.
The Louisville Cardinals vowed to finish the job for Kevin Ware.
Boy, did they ever.
With their injured teammate cheering them on from the bench, Louisville capped its run through the NCAA tournament, coming back again from a 12-point deficit to beat Michigan 82-76 in the championship game Monday night.
"These are my brothers," said Ware, still getting around on crutches after a horrific injury in the regional final. "They got the job done. I'm so proud of them, so proud of them."
Ware is just getting started on what could be a yearlong recovery from a broken right leg, but he's already got something no one can take away — a championship.
They even lowered the goal so he could take a turn with the scissors, helping cut down the net that wound up around his neck.
"It meant the world to me," Ware said. "I don't really have any other words to describe how I feel right now."
Pitino knows how it feels to win a championship, having guided Kentucky to a crown in 1996. Now, working right down the road from Lexington, he became the first coach to win titles at different schools.
---