Obama budget: Is it 'austere'?
President Barack Obama's 2014 budget includes increases in spending for setting up health exchanges, increasing scrutiny for food safety, and gun violence and Alzheimer's disease research. It includes cuts to Medicare, such as reducing subsidies for wealthier people and diminishing the pay rate for physicians.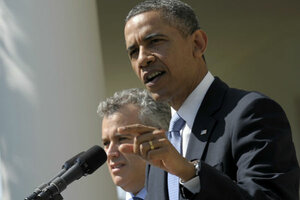 AP Photo/Susan Walsh
President Barack Obama's proposed 2014 budget includes an increase of $3.9 billion to the health department as it prepares to implement the administration's healthcare overhaul, setting money aside for mental health, but cutting medicare.
The budget asks for $1.5 billion in increased funding to help set up healthcare exchanges and educate consumers on the enrollment process, which is scheduled to begin on Oct. 1. The exchanges are to begin providing coverage on Jan. 1.
The increase would contribute to a budget of $80.1 billion for the Department of Health and Human Services, up nearly $4 billion over 2012. The 2013 budget is still being finalized.
"Even as it invests in areas that we know are critical for our future prosperity, the budget also contributes to the president's goal of cutting the deficit in a balanced way," health secretary Kathleen Sebelius said at a news briefing in Washington on Wednesday.
"That means safeguarding every dollar, cutting waste and duplication, seeking out savings wherever we can and making some very difficult choices we wouldn't have made at other times."
The budget calls for cuts to Medicare as part of a broad plan to reduce the program's costs by roughly $400 billion over the next decade. At the same time, it proposes $130 million in funding for mental health services and additional funding for research into gun violence following the Newtown, Connecticut, school shooting in December.
---