Boston Marathon winners: An Ethiopian and a Kenyan
Boston Marathon: Ethiopian Lelisa Desisa was the 2013 winner of the men's marathon. Kenyan Rita Jeptoo won the women's race. Americans finished fourth in both the men's and women's marathon.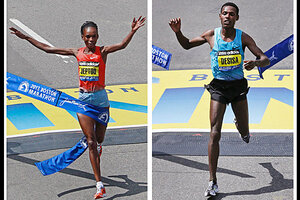 (AP Photo/Charles Krupa)
The Kenyans finally face a challenge to their dominance of the Boston Marathon, and it's from their East African neighbors.
Ethiopia's Lelisa Desisa took the title in the 117th edition of the world's oldest marathon on Monday, winning a three-way sprint down Boylston Street to finish in 2 hours, 10 minutes, 22 seconds and snap a string of three consecutive Kenyan victories.
"Here we have a relative newcomer," said Ethiopia's Gebregziabher Gebremariam, who finished third. "Everything changes."
In just his second race at the 26.2-mile distance, Desisa finished 5 seconds ahead of Kenya's Micah Kogo to earn $150,000 and the traditional olive wreath. American Jason Hartmann finished fourth for the second year in a row.
"It was more of a tactical race, the Ethiopian versus the Kenyans. That fight played out very well," defending champion Wesley Korir, a Kenyan citizen and U.S. resident, said after finishing fifth.
"The Ethiopians run very good tactical races. One thing I always say is, 'Whenever you see more than five Ethiopians in a race, you ought to be very careful.' As Kenyans, we ought to go back to the drawing board and see if we can get our teamwork back."
Rita Jeptoo averted the Keynan shutout by winning the women's race for the second time. Jeptoo, who also won in 2006, finished in 2:26:25 for her first victory in a major race since taking two years off after having a baby.
---