Boston explosions: Cities on alert in US and UK
Boston explosions: Los Angeles, New York City, and London have stepped up security in the wake of two explosions near the finish line of the Boston Marathon.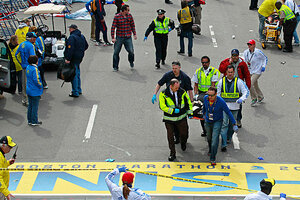 (AP Photo/Charles Krupa)
Police in Los Angeles, New York City, London and other cities worldwide stepped up security Monday following explosions at the Boston Marathon.
Los Angeles police Lt. Andrew Neiman said the department was urging officers to be extra vigilant around large crowds and would increase security at sporting events such as the Los Angeles Dodgers game Monday night.
The department was also activating its emergency operations center to increase communication and increasing patrols for transit and other critical areas, Los Angeles County Sheriff's spokesman Steve Whitmore said.
Police in Washington, San Diego, Vegas and Atlanta were monitoring events closely and assessing potential increases in security measures. Agencies were also stepping up social media response, telling the public via Twitter and Facebook to report suspicious activity to the police.
Chief NYPD spokesman Paul Browne said Monday that critical response teams were deployed around the city, and officials were stepping up security at hotels and other prominent locations.
---