Suspect arrested in ricin-laced letters case
According to the FBI, a Mississippi man was arrested for sending possibly poisonous letters to President Barack Obama and Senator Roger Wicker. There were other reports of mysterious packages in Senate office buildings and in senators' offices in their home states. Authorities are continuing to investigate the suspicious materials.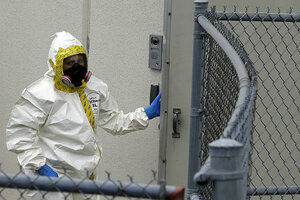 AP Photo/Alex Brandon
A Mississippi man was arrested Wednesday, accused of sending letters to President Barack Obama and a senator that tested positive for the poisonous ricin and set the nation's capital on edge a day after the Boston Marathon bombings.
FBI Special Agent in Charge Daniel McMullen said the man was arrested Wednesday. His name wasn't immediately released publicly.
Authorities still waited for definitive tests on the letters to Obama and Sen. Roger Wicker, R-Miss. An FBI intelligence bulletin obtained by The Associated Press said those two letters were postmarked Memphis, Tenn.
Both letters said: "To see a wrong and not expose it, is to become a silent partner to its continuance." Both were signed, "I am KC and I approve this message."
The letters were intercepted before reaching the White House or Senate. The FBI said Wednesday that more testing was underway. Preliminary field tests can often show false positives for ricin.
As authorities scurried to investigate three questionable packages discovered in Senate office buildings, reports of suspicious items also came in from at least three senators' offices in their home states.
Sen. Carl Levin said a staff member at his Saginaw, Mich., office would spend the night in a hospital as a precaution after discovering a suspicious letter. The staff member had no symptoms, Levin said in a statement. He expected to learn preliminary results of tests on the letter by Thursday.
---