Chicago flooding closes airports and highways, opens sinkhole
Chicago flooding opened a sinkhole, shut down expressways, delayed commuter trains, flooded basements, and caused officials to close schools, cancel flights, and evacuate a hospital.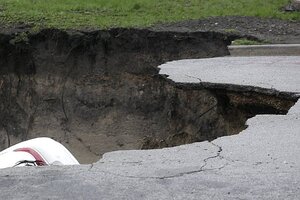 M. Spencer Green / AP
Heavy rains and flooding brought havoc to the Chicago area on Thursday, shutting expressways, delaying commuter trains, cancelling flights, flooding basements and closing many suburban schools.
The National Weather Service issued flash flood warnings lasting into the evening for the entire Chicago area. Between three and seven inches of rain fell throughout the area in the last 24 hours and more was expected, and area rivers continued to rise, according to the weather service.
Flooding shut parts of three major expressways in and out of the city Thursday morning. Many arterial streets and highway ramps remained blocked Thursday afternoon, and police recommended that people limit travel, if possible, during the evening commute.
Major flooding was affecting parts of Des Plaines, Fox, Illinois and DuPage rivers, according to the weather service. The north branch of the Chicago River is already at levels not seen since the major flooding of September 2008, the service said.
Governor Pat Quinn declared a state of emergency for Illinois.
"Our experts at the Illinois Department of Natural Resources are very concerned about the next few days, that certain rivers in our state are at record levels with respect to flooding that we've never seen before," Quinn told a news conference in the Chicago suburb of Elmhurst.
---