'Shame on you!' Gun vote shamed by Obama, Giffords, Maisch
'Shame' was the word of the day after the U.S. Senate failed to pass gun control legislation yesterday. A spectator in the gallery yelled out 'Shame on you!' while President Obama referred to the vote as 'pretty shameful' and Rep. Gabby Giffords wrote 'Shame on them' in an op-ed about the senators.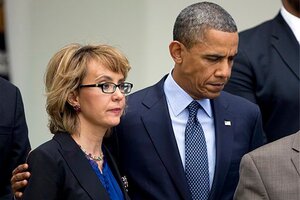 Manuel Balce Ceneta / AP
Senate Republicans and a small band of rural-state Democrats scuttled the most far-reaching gun control legislation in two decades Wednesday, rejecting tighter background checks for buyers and a ban on assault weapons as they spurned pleas from families of victims of last winter's school massacre in Newtown, Conn.
Survivors of the shootings watched from the spectator galleries above the Senate floor. "Shame on you," shouted one, Patricia Maisch, who was present two years ago when a gunman in Tucson, Ariz., killed six and wounded 13 others, including former Rep. Gabrielle Giffords.
"This effort isn't over," President Barack Obama vowed at the White House moments after the defeat on one of his top domestic priorities. Surrounded by Ms. Giffords and Newtown relatives, he said opponents of the legislation in both parties "caved to the pressure" of special interests and called it "a pretty shameful day for Washington."
A ban on high-capacity ammunition magazines also fell in a series of showdown votes. A bid to loosen restrictions on concealed weapons carried across state lines was rejected, as well.
---