Midwest sees record floods, road closures, runaway barges, and evacuations
After a week of torrential rains, six Midwestern states are struggling with massive flooding. Two Mississippi River bridges and part of the river have been closed as the waters continue to rise.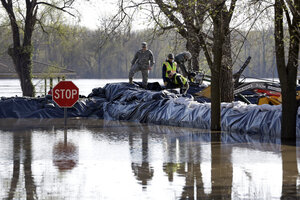 Jeff Roberson/AP
An all-too-familiar springtime ritual played out around the nation's heartland this weekend as volunteers, National Guardsmen and even prison inmates joined together in an effort to ward off fast-rising floodwaters.
Dangerously high waters dotted at least six Midwestern states following torrential rains this past week that dumped up to 7 inches in some locations. Record flooding was possible in some places as dozens of rivers overflowed their banks.
The water levels forced evacuations, closed roads, swamped hundreds of thousands of acres of farmland and shut down much of the upper Mississippi River to barge traffic.
Two Mississippi River bridges were closed and a third was shut down for a few hours after 114 barges broke loose Saturday night south of St. Louis and floated down the fast-moving river toward Jefferson Barracks Bridge in St. Louis County. The Missouri Department of Transportation shut down the bridge at 2 a.m. Sunday for an inspection; it reopened at 8 a.m.
Because of the danger posed by the runaway barges, the US Coast Guard shut down a 15-mile stretch of the river, much of which was already effectively closed between the Quad Cities and north of St. Louis after the Army Corps of Engineers shut down most locks in that stretch or river.
---