49ers trade up? San Francisco has draft picks to deal, if they want
49ers trade up?: The defending NFC champions have 13 draft picks to wheel and deal with. If the 49ers trade up, they might look for a backup quarterback.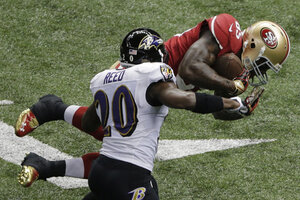 Charlie Riedel/AP/File
With 13 draft picks, Trent Baalke has built quite the board of potential players. A board that is well prepped but could change quickly as the draft unfolds.
The San Francisco 49ers general manager has already fielded his share of calls from teams trying to boost their chances by acquiring some of those selections from the NFC champions.
"It's up to us to turn those 13 picks into quality picks," Baalke said. "Certainly the more darts you have the more balloons you can pop."
The media-shy Baalke isn't tipping his hand much as to what he might do, though he is always open-minded.
Could San Francisco take a quarterback? Maybe so, maybe not.
How about a safety? Sure.
"You're not going to get a straight answer from me," said Baalke, who prefers to let coach Jim Harbaugh serve as the face of the franchise. "It's possible that we could draft any position. We're not opposed to draft any position. I've always maintained there's good players at every position. It's our job to find them. We treat the seventh round the same way we treat the first round."
San Francisco, which lost 34-31 to the Baltimore Ravens in the Super Bowl on Feb. 3 in New Orleans, has its first pick at No. 31 Thursday night near the end of the first round.
---