Irked by airport delays, Senators ease FAA furloughs
The Senate re-appropriated money Thursday to reopen closed air traffic control towers and rehire furloughed air traffic controllers. Many members of Congress had already flown home to their districts, thus experiencing the delays affecting many air travelers.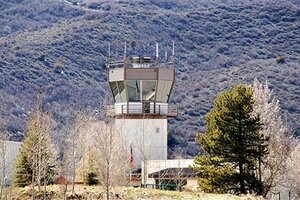 Janet Urquhart / The Aspen Times / AP
With flight delays mounting, the Senate approved hurry-up legislation Thursday night to end air traffic controller furloughs blamed for inconveniencing large numbers of travelers.
A House vote on the measure was expected as early as Friday, with lawmakers eager to embark on a weeklong vacation.
Under the legislation, the Federal Aviation Administration would gain authority to transfer up to $253 million from accounts that are flush into other programs, to "prevent reduced operations and staffing" through the Sept. 30 end of the fiscal year.
In addition to restoring full staffing by controllers, Senate officials said the available funds should be ample enough to prevent the closure of small airport towers around the country. The FAA has said it will shut the facilities as it makes its share of $85 billion in across-the-board spending cuts that took effect last month at numerous government agencies.
The Senate acted as the FAA said there had been at least 863 flights delayed on Wednesday "attributable to staffing reductions resulting from the furlough."
There was no immediate reaction at the White House, although administration officials participated in the negotiations that led to the deal and evidently registered no objections.
Sen. Susan Collins (R) of Maine, a key participant in the talks, said the legislation would "prevent what otherwise would have been intolerable delays in the air travel system, inconveniencing travelers and hurting the economy."
Senate approval followed several hours of pressure-filled, closed-door negotiations, and came after most senators had departed the Capitol on the assumption that the talks had fallen short.
---