2013 NFL draft: Bring on the beef
The 2013 NFL draft started with beefy lineman Eric Fisher. Then came beefy lineman Luke Joeckel, also an offensive tackle. The quarterbacks didn't show up in the 2013 NFL draft till the No. 16 draft pick, Florida State's EJ Manuel.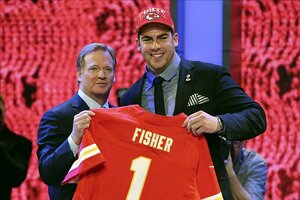 Mary Altaffer / AP
Short on glam, slim on glitter, the NFL draft was still nothing less than a rock solid B-plus. As in Big, as in Brawn, as in Bulk, as in Beefy.
We're talking a scale-busting 600 pounds at the outset Thursday night with offensive tackles Eric Fisher of Central Michigan and Luke Joeckel of Texas A&M.
The first seven picks were all linemen: four on offense, three on defense. "That's a lot of love for the big boys up front, which we usually don't get," Mr. Fisher said.
Unlike the last few years when bumper crops of quarterbacks reigned, this was pure muscle, and lots of it.
Actually, not a single QB was selected until Florida State's EJ Manuel went to Buffalo at No. 16 — the lowest since 2000, when Chad Pennington went 18th to the Jets.
Fisher became the first Mid-American Conference player selected at the top when Kansas City's new regime led by coach Andy Reid chose the 6-foot-7, 306-pound offensive tackle.
"This is so surreal," Fisher said. "I'm ready to get to work right now. I'm ready to start playing some football. I can't process what's going on right now."
---