Gun control, Arizona style: Guns given to the state will be re-sold
In Arizona, guns turned in at 'buyback' events will not be destroyed but instead be sold to gun dealers, under provisions of a law signed last night by Gov. Jan Brewer.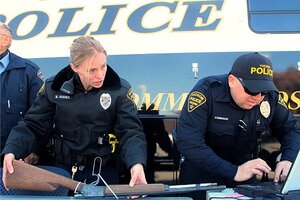 Brian Skoloff / AP
Arizona cities and counties that hold community gun buyback events will have to sell the surrendered weapons instead of destroying them under a bill Gov. Jan Brewer signed into law Monday.
The bill was championed by Republicans in the GOP-controlled Legislature who argued that municipalities were skirting a 2010 law that was tightened last year and requires police to sell seized weapons to federally licensed dealers. They argued that destroying property turned over to the government is a waste of taxpayer resources.
Democrats who argued against the bill said it usurps local control and goes against the wishes of people who turn over their unwanted weapons to keep them out of the hands of children or thieves.
Buybacks are popular among some police and elected officials who either pay cash or hand out gift cards in exchange for weapons. Tucson and other Arizona communities destroyed weapons from the events, arguing that because the guns were voluntarily surrendered, the laws concerning weapons seized by authorities didn't apply.
House Bill 2455 prompted a furious debate in the state Senate, where Democrats accused Republicans of complaining about an overbearing federal government but then turning around and dictating policies to local governments.
---