Tsarnaev widow request: Give the body to his family, not me
Tamerlan Tsarnaev's widow has requested that his body be released to his family. Tsarnaev's widow has waived her right to claim it and continues to distance herself from him.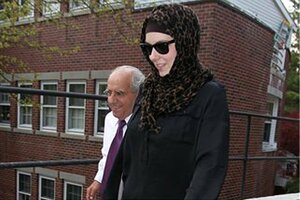 Stew Milne / AP
Tamerlan Tsarnaev's relatives will claim his body now that his widow has agreed to release it, an uncle said Tuesday.
The body of the deceased Boston Marathon bombing suspect has been at the medical examiner's office in Massachusetts since Mr. Tsarnaev died after a gunfight with authorities more than a week ago.
Amato DeLuca, the Rhode Island attorney for his widow, Katherine Russell, said in a statement Tuesday that his client had just learned that the medical examiner was ready to release Tsarnaev's body and that she wants it released to the Tsarnaev family.
Police said Tsarnaev ran out of ammunition before his brother, 19-year-old Dzhokhar Tsarnaev, dragged his body under a vehicle while fleeing the scene. His cause of death has been determined but will not be made public until his remains are claimed.
"Of course, family members will take possession of the body," uncle Ruslan Tsarni of Montgomery Village, Md., told The Associated Press on Tuesday night. "We'll do it. We will do it. A family is a family."
He would not elaborate. Tsarnaev's parents are still in Russia, but he has other relatives on his side of the family in the U.S., including Tsarni.
Dzhokhar Tsarnaev lies in a prison hospital after being wounded in the shootout with police as he and his brother made their getaway attempt. He is charged with using a weapon of mass destruction to kill, a crime that carries a potential death sentence.
---