Arias trial: Does her crime 'justify' the death penalty?
In a long and dramatic trial, an Arizona woman, Jodi Arias, was convicted of murdering her ex-boyfriend by a jury on Wednesday. The sentencing trial will begin on Thursday and will determine whether Arias will face the death penalty.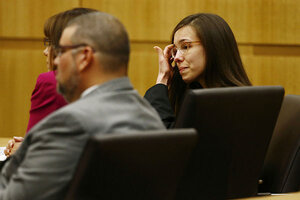 AP Photo/The Arizona Republic, Rob Schumacher, Pool
An Arizona jury found Jodi Arias guilty on Wednesday of first-degree murder in the death of her ex-boyfriend in a capital trial that riveted America for months with graphic sexual evidence and bizarre testimony.
Arias, who could face the death penalty as her case goes into the penalty phase of the trial on Thursday, has admitted to shooting 30-year-old Travis Alexander, whose body was found in the shower of his Phoenix valley home in June 2008. He had been shot in the face, stabbed 27 times and his throat had been slashed.
Arias, 32, had tried unsuccessfully to convince the jury that she acted in self-defense after Alexander attacked her because she had dropped his camera while taking photos of him in the shower.
She teared up as the jury's decision was read, while a crowd of hundreds erupted into cheers outside the court. Jurors could have convicted Arias of a lesser crime such as second-degree murder or manslaughter, but instead found her guilty of the most serious charge possible.
"Five long years ... of lying, manipulating. Now the citizens of Arizona have spoken," Dave Hall, a friend of Alexander, told reporters as he left the court. He said a death sentence would be appropriate.
"If what she did to Travis does not justify the death penalty in America today, then what do we have one for?"
The trial, which was punctuated by graphic testimony and evidence including a sex tape, captivated a nation enthralled by the story of an attractive and soft-spoken young woman charged with such a brutal crime.
---