Cleveland kidnapping: Castro arraignment slated for Thursday
Ariel Castro, the man charged with kidnapping three women, will be arraigned on Thursday morning in Cleveland. Authorities have found no evidence linking his two brothers to the case. However, they will be arraigned on unrelated misdemeanor charges.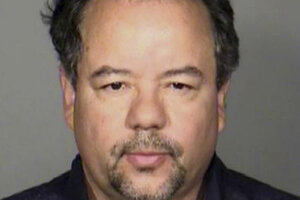 AP Photo/Cleveland Police Department
Amanda Berry and two other women were isolated, held captive and raped in a house stocked with ropes and chains for nearly a decade, and she told police her escape two days ago was her first chance to break free.
Ohio authorities on Wednesday revealed some of the grisly details of the years Berry, now 27, Gina DeJesus, 23, and Michelle Knight, 32, and a six-year old girl allegedly spent as prisoners of suspect Ariel Castro, who was charged with kidnapping and rape.
His brothers, who were originally arrested in the case, were not charged and had no knowledge of what Castro, 52, is accused of doing, according to police.
Castro, who owns the house where the women were found on Monday, was charged with three counts of rape, relating to the women, and four counts of kidnapping, said Cleveland city prosecutor Victor Perez at a news conference.
The charges came as police disclosed that the women, who were rescued after Berry fled with the help of a neighbor, had not seen any previous chances to escape in nearly ten years of captivity.
"The only opportunity, after interviewing the young ladies, to escape was the other day when Amanda escaped," Cleveland Deputy Police Chief Ed Tomba said at the news conference. "They don't believe that they've been outside that home for the last 10 years respectively."
Authorities said the women recalled leaving the house twice, only to go to the garage on the small lot, when they were disguised in wigs and hats.
---