Gay marriage clears Minnesota House, heads to Senate
If the Minnesota Senate votes to legalize gay marriage next Monday, as expected, it will be the 12th state in the US to offer full marriage equality, following on the heels of Rhode Island and Delaware.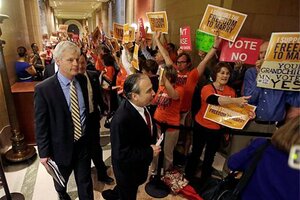 Jim Mone / AP
A historic vote Thursday in the Minnesota House positioned that state to become the 12th in the country to allow gay marriages and the first in the Midwest to pass such a law out of its Legislature.
Lawmakers approved it 75-59, a critical step for the measure that would allow same-sex weddings beginning this summer. It's a startling shift in the state, where just six months earlier voters turned back an effort to bangay marriage in the Minnesota Constitution.
The state Senate plans to consider the bill Monday and leaders expect it to pass there, too. Gov. Mark Dayton has pledged to sign it into law.
"It's not time to uncork the champagne yet. But it's chilling," Rep. Steve Simon, a suburban Democrat who backed the bill, said at a raucous rally in the state Capitol rotunda minutes after the vote.
Rep. Karen Clark, the bill's sponsor, said her only goal was equal treatment under state law for same-sex couples. In a deeply personal speech, the Minneapolis Democrat talked of the support she got from her own family after coming out as gay decades ago.
"My family knew firsthand that same sex couples pay our taxes, we vote, we serve in the military, we take care of our kids and our elders and we run businesses in Minnesota," she said.
---