Benghazi emails: What do they reveal?
One email confirmed officials removed information about CIA warnings regarding an al Qaeda threat before the attacks in Benghazi, Libya in September 2012 from talking points the U.S. Ambassador to the United Nations presented to the public. The administration released the emails in an effort to seem more transparent.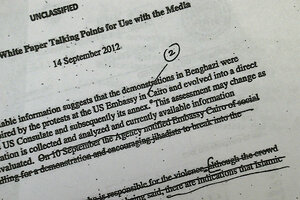 AP Photo/Jacquelyn Martin
The White House on Wednesday sought to defuse controversy over its handling of last year's killing of four Americans in Benghazi, releasing emails that show how Obama administration officials presented a scrubbed-down version of the attacks to the public.
The documents gave a glimpse into the administration's message control as officials carefully debated via email which details U.S. Ambassador to the United Nations Susan Rice should highlight when she went on talk shows five days later to discuss the Sept. 11 assault on the U.S. mission in Benghazi, Libya.
There was little in the roughly 100 pages of emails about Rice's "talking points" that had not been leaked previously.
They included an email confirming perhaps the most damaging charge that administration officials removed mention from Rice's talking points that the CIA had warned of an al Qaeda threat in the area of the eastern Libyan city before the attacks.
The exchange between White House, State Department and intelligence officials showed the talking points went through a series of revisions that scrubbed them of references to terror warnings before Ambassador Chris Stevens and three other Americans were killed.
While awkward for the White House, releasing the emails was an effort to counter complaints from Republicans and the media that President Barack Obama's administration is secretive.
---