Marshals: Tiger lied about Garcia incident
Marshals say Tiger lied about talking to the course marshals before he pulled a club and distracted Sergio Garcia at the Players Championship. If Tiger Woods lied, it's the third incident involving his integrity in recent weeks.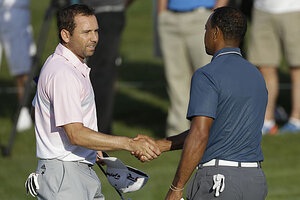 (AP Photo/Gerald Herbert)
Tiger Woods has faced more scrutiny that any other golfer from his generation. Maybe ever. Just not this variety.
Now it's his integrity on the golf course that's being questioned.
Tiger Woods won The Players Championship on Sunday for his fourth victory this year. Making it even more memorable, Woods ended his public spat with Sergio Garcia by posing with the crystal trophy. They were tied with two holes to play, and Garcia hit three shots in the water.
That all seems like B-material compared with the buzz over course marshals statements that contradict Wood's version of events with Garcia. Essentially, they say he lied. And then there's the drop Woods took on the 14th hole of the final round.
He hit what he called a "pop-up hook" with a 3-wood from the tee, and the ball landed in the water left of the fairway. Consulting with Casey Wittenberg, he dropped it some 255 yards short of the green. Woods then hit a remarkable shot short of the green, pitched on and missed a 6-foot putt to take double bogey.
The Internet has been alive with video showing the ball's flight on the 14th, along with analysis dissecting what was and was not said by a TV analyst, and seemingly endless theories how the ball could possibly have crossed land where Woods took his drop.
The chatter won't stop, even though there is nowhere to go with it. Consider this statement put out by Mark Russell, the tour's vice president of competition: "Without definitive evidence, the point where Woods' ball last crossed the lateral water hazard is determined through best judgment by Woods and his fellow competitor," the statement said.
Woods conferred with Wittenberg, his playing partner.
"I saw it perfectly off the tee," Wittenberg said. "I told him exactly where I thought it crossed, and we all agreed. So he's definitely great on that."
And if video suggests otherwise?
Decision 26-1/17 says a penalty would not be appropriate because it comes down to an honest judgment.
---