Uzbekistan national arrested on terrorism charges in Idaho
Fazliddin Kurbanov, a 30-year-old Uzbekistan man, was arrested by Idaho authorities Thursday. He is suspected of helping a terrorist organization conspire to use a weapon of mass destruction.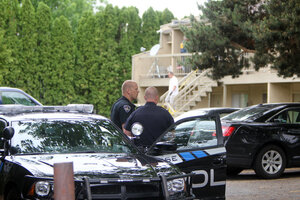 Joe Jaszewski/The Idaho Statesman/AP
Federal authorities in Idaho said Thursday they have arrested an Uzbekistan national accused of conspiring with a designated terrorist organization in his home country and helping scheme to use a weapon of mass destruction.
The US attorney's office said Fazliddin Kurbanov, 30, was arrested at an apartment complex in south Boise on Thursday morning after a grand jury issued a three-count indictment as part of an investigation into his activities in Idaho and Utah.
The Idaho grand jury's indictment charges Kurbanov with one count of conspiracy to provide material support to a foreign terrorist organization, and one count of conspiracy to provide material support to terrorists. The indictment also alleges he possessed an unregistered explosive device.
A separate federal grand jury in Utah also returned an indictment charging Kurbanov with distributing information about explosives, bombs and weapons of mass destruction.
Kurbanov was being held in the Ada County Jail and is scheduled to appear in federal court in Boise at 9 a.m. Friday.
Wendy Olson, the US attorney in Idaho, said Kurbanov is the only person charged, and any potential threat was contained by his arrest.
"He was closely monitored during the course of the investigation," she said. "The investigation has been under way for some time."
Olson declined to share any other specifics of Kurbanov's alleged activities, including whether any potential terrorist threat or targets were domestic or abroad.
A news release from the US attorney's office said Kurbanov is in the United States legally, but Olson declined to give details about his immigration status.
It was unclear when he moved to Idaho or the extent of his activities in Utah. An Idaho telephone number registered to Kurbanov has been disconnected.
The Idaho indictment alleges that between August 2012 and May 2013, Kurbanov knowingly conspired with others to provide support and resources, including computer software and money, to the Islamic Movement of Uzbekistan, a designated terrorist organization. The group's purpose is to overthrow the government of Uzbekistan, said David B. Barlow, US attorney in Utah.
---