Car drives into a crowd at Appalachian Trail hikers' parade
Car drives into a crowd at a parade in Virginia Saturday. The car, driven by an elderly man, injured 50 to 60 people, but there were no fatalities in the crowd.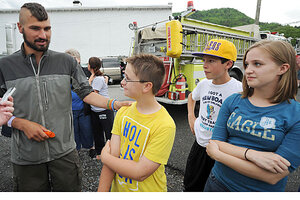 (AP Photo/Bristol Herald Courier, Earl Neikirk)
An elderly driver plowed into dozens of hikers marching in a Saturday parade in a small Virginia mountain town and investigators were looking into whether he suffered a medical emergency before the accident.
About 50 to 60 people suffered injuries ranging from critical to superficial, but no fatalities were reported. Three of the worst injured were flown by helicopter to area hospitals. Their conditions weren't immediately available.
Another 12 to 15 victims were taken to hospitals by ambulance and the rest were treated at the scene, where some paramedics and other first-responders were participating in the parade.
It happened Saturday afternoon in the hamlet of Damascus, during the Hikers Parade at the Trail Days festival, an annual celebration of the Appalachian Trail, a majestic hiking route through the Appalachian Mountains that spans 14 states from Georgia to Maine.
Damascus Police Chief Bill Nunley didn't release the driver's name or age but said he was participating in the parade and he had traversed the Appalachian Trail in the past. Multiple witnesses described him as an elderly man.
Nunley said the man's 1997 Cadillac was one of the last vehicles in the parade and the driver might have suffered an unspecified medical problem when his car accelerated to about 25 mph (40 kph) and struck the crowd on a two-lane bridge along the town's main road. The driver was among those taken to hospitals.
---