Atheists books next to Bibles in Georgia cabins?
Atheists books next to Bibles: If Georgia state parks allow Bibles in cabins, atheists say they will put secular books next to the Bibles.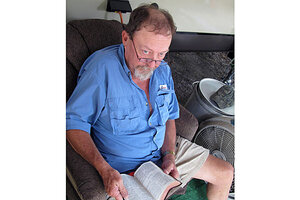 (AP Photo/Russ Bynum)
A national atheist group said Monday that it will donate its literature for use in cabins and lodges in Georgia's state parks after the governor's recent decision to allow Bibles there.
David Silverman, president of the Cranford, N.J.-based American Atheists organization, said his group is just waiting for an answer from the state on what the best procedure is to donate several books, including one titled "Why I Am An Atheist."
"We expect fair treatment, we anticipate fair treatment and we look forward to fair treatment," Silverman said. "If the state is going to put Bibles in the cabins, they must allow alternate points of view — all alternative points of view without taking sides."
But it was not at all clear Monday whether the atheist literature would find a place in the cabins alongside the Protestant Bibles.
Asked if the state would allow it, Brian Robinson, a spokesman for Gov. Nathan Deal, would only say that the governor's office is working on regulations governing the distribution of materials with the Department of Natural Resources and the Attorney General's Office.
---