Derecho windstorms could sweep the midwest: Who is in its path?
Derecho windstorms can blow 75 mph winds for hours, across vast distances. This derecho could affect Milwaukee, Chicago, Detroit, Cleveland, Pittsburgh, and maybe Washington, D.C.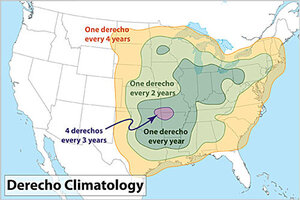 Courtesy of the National Weather Service / NOAA
The National Weather Service was tracking a so-called derecho weather pattern in the Midwest on Tuesday that could spawn severe windstorms in major metropolitan areas with gusts as strong as 100 mph.
Derecho windstorms occur once every year or two across the central and northeastern U.S. in a band from Texas to New England. They pack hazardous winds of at least 75 mph or more and maintain their intensity for hours as they sweep across vast distances.
In some cases a derecho will spawn tornados and accompany storms that produce hail the size of golf balls.
The current pattern could affect larger metropolitan areas in Milwaukee, Chicago, Detroit, Cleveland and Pittsburgh in the next two days, said Bill Bunting, a meteorologist in the agency's storm prediction center in Norman, Okla.
"We tend to be careful using the D word, but yes, a derecho is possible," Bunting said.
The weather service was predicting a chance of storm activity beginning in southern Montana and northeastern Wyoming on Tuesday afternoon. It was expected to sweep eastward, with a 45 percent chance that severe wind activity would hit the southern half of South Dakota down to the northern ridge of Nebraska. There's a 30 percent likelihood the severe winds stretch into northern Iowa and southern Minnesota.
---