'Very dangerous' storm rattles Midwest
Hail and high winds struck the Midwest region on Wednesday. The weather inconvenienced many commuters in Chicago and elsewhere. There were, however, no immediate reports of significant damage or injuries.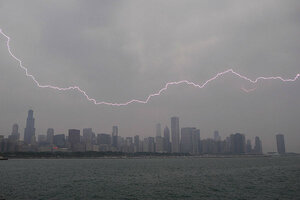 AP Photo/Scott Eisen
A violent storm swept across seven states of the upper Midwest on Wednesday, spawning at least nine tornadoes as well as damaging hail and high winds, and causing transportation chaos in Chicago, America's third largest city.
The storm was described by the National Weather Service as "very dangerous" because of its potential to produce tornadoes and "derechos" - storms in which wind speeds increase as they move.
Menacing dark clouds hung early on Wednesday evening over downtown Chicago, where many people left work early from high-rise buildings in order to beat the storm home. Others were stuck in traffic jams or on trains delayed by the weather.
Numerous tornado warnings were issued for parts of the Midwest and there were preliminary reports of at least nine twisters touching down, all of them in Iowa, the weather service said. A tornado warning tells residents to find shelter immediately.
Benjamin Jeffers, 18, an employee at the Belmond, Iowa Country Club, about 95 miles (150 km) north of Des Moines, said he and coworkers fled to the basement after one of two funnel clouds approached.
"Debris started flying around the golf course and it started to get real close and the other one started to get way big," he said. "It sounded like a big train without the horn. A rumble kind of." The club escaped damage, he said.
Local media also reported a tornado touching down briefly about 30 miles (50 miles) from Chicago in Illinois.
There were no immediate reports of substantial damage, injuries or death from the storms.
---