South Florida sports bar deck collapse injures 24
A deck attached to a sports bar just north of Miami collapsed during Game 4 of the NBA Finals between the Miami Heat and San Antonio Spurs, sending dozens of basketball fans into the water.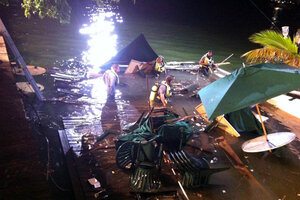 Tom Tuckwell, WSVN-TV/AP
A packed outdoor deck behind a popular Miami-area sports bar partially collapsed during the NBA Finals on Thursday night, sending dozens of patrons into the shallow waters of Biscayne Bay.
Miami-Dade Fire Chief David Downey said 24 people were taken to area hospitals. Two people were in serious condition.
Authorities said about 100 people were on the deck of Shucker's Bar & Grill in North Bay Village, north of Miami Beach, when it gave way.
Sports bar customers — and later rescuers — helped people from the water amid yelling, crying and a rush to find people who might be submerged.
"According to witnesses, a lot of people jumped in to help," Downey said.
One witness, Martin Torres, 42, of Los Angeles, said he was inside the sports bar with family and friends when heard a loud explosion. At first, he thought a boat had struck the deck. He said he looked outside and saw people staring up from the water, and then he and others started helping them out of the bay.
"It was shock," said Torres. "People were yelling. Nobody knew. People came out all wet. They were crying. For a while, nobody knows what was going on."
Israel Marquez, 37, of Bakersfield, Calif., who like Torres was in Florida because he's scheduled to board a cruise from Florida on Friday, said he "heard a big old snap. Boom. Like a shotgun blast."
---