Aaron Hernandez: Police at Patriots player's home investigating murder
Aaron Hernandez: A body was found near the home of NFL tight end Aaron Hernandez. But Sports Illustrated says Hernandez is not a suspect at this point in the investigation.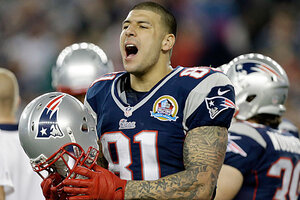 AP Photo/Elise Amendola, File
North Attleborough, Mass.
State and local police spent hours at the home of NFL tight end Aaron Hernandez of the New England Patriots on Tuesday night as another group of officers searched an industrial park about a mile away where a body was discovered the day before.
Police at the scene and prosecutors would not comment on the actions while Sports Illustrated, citing an unidentified source, reported that Hernandez was not believed to be a suspect in what was being treated as a possible homicide. Police had spoken with Hernandez, the magazine said.
Sports Illustrated reported that the link between Hernandez and the case was a rented Chevrolet Suburban with Rhode Island plates that police had been searching for. The Sun Chronicle of Attleboro, Mass., said the SUV was registered to "Enterprise" and investigators wanted to analyze it for fingerprints.
The Associated Press could not independently confirm the reports.
No cause of death had been released for the body found about 5:30 p.m. Monday.
---