Indiana explosion: What caused the fatal explosion?
Indiana explosion: A man was killed in an explosion at an Indiana grain elevator today. OSHA says explosions in grain-handling facilities across the nation have killed 180 people and injured more than 675 over the last 35 years.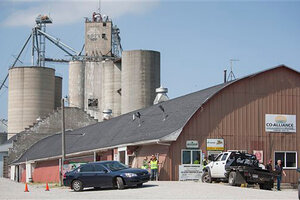 Robert Franklin / South Bend / AP
Indiana explosion: An explosion Monday inside a grain elevator killed a worker at a sprawling northwestern Indiana farm co-op, authorities said.
The cause of the blast at the Union Mills Co-op remained unknown Monday evening several hours after the blast. The U.S. Bureau of Alcohol, Tobacco, Firms and Explosives and the Indiana Occupational Safety and Health Administration were among the agencies sending investigators to the scene.
It wasn't clear where the victim, James Swank, 67, of Union Mills, was at time of the blast, but he might have been loading grain into train cars with two other workers, Maj. John Boyd of the LaPorte County Sheriff's Department said.
"At this point we're just not sure," Boyd said.
All other employees were accounted for and no other injuries were reported.
Swank died from multiple blunt force trauma, Coroner John Sullivan said. It may have been a grain dust explosion, he said.
"Neighbors reported a large, concussion-like explosion that shook their homes, followed by a large amount of white smoke," Sullivan said.
---