Filibuster broken, but Texas abortion law fails to pass
Filibuster fails: Wendy Davis spoke for 11 hours in a filibuster but was stopped before the midnight deadline. Still, the Texas abortion law failed to pass when protestors managed to stall a vote.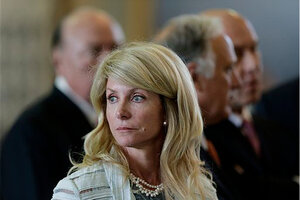 Eric Gay/AP
Despite barely beating a midnight deadline, hundreds of jeering protesters helped stop Texas lawmakers from passing one of the toughest abortion measures in the country.
As the protesters raised the noise to deafening levels in the Texas Senate chamber late Tuesday, Republicans scrambled to gather their colleagues at the podium for a stroke-of-midnight vote.
"Get them out!" Sen. Donna Campbell shouted to a security guard, pointing to the thundering crowd in the gallery overhead that had already been screaming for more than 10 minutes.
"Time is running out," Campbell pleaded. "I want them out of here!"
It didn't work. The noise never stopped and despite barely beating the midnight end-of-session deadline with a vote to pass the bill, Lt. Gov. David Dewhurst said the chaos in the chamber prevented him from formally signing it before the deadline passed, effectively killing it.
Dewhurst denounced the protesters as an "unruly mob." Democrats who urged them on called the outburst democracy in action.
In either point of view, a raucous crowd of chanting, singing, shouting demonstrators effectively took over the Texas Capitol and blocked a bill that abortion rights groups warned would close most abortion clinics in the state.
"They were asking for their voices to be heard," said Sen. Wendy Davis of Fort Worth, who spent nearly 11 hours trying to filibuster the bill before the outburst. "The results speak for themselves."
---