Kerry bounces between Israel, Palestine, pushing for peace at breakneck pace
Secretary of State John Kerry is practicing shuttle diplomacy, traveled back and forth between Israel and Palestine and holding hours-long meetings with leaders in the hopes of restarting talks.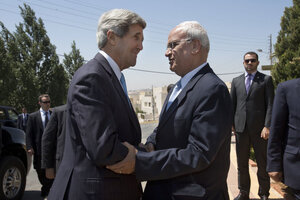 Jacquelyn Martin/AP
US Secretary of State John Kerry kept up his frenetic Mideast diplomacy Saturday, shuttling again between Palestinian and Israeli leaders in hopes of restarting peace talks.
Kerry met for two hours with Palestinian President Mahmoud Abbas in Amman, Jordan in what was their second set of discussions in two days.
He planned more talks in the evening with Israeli Prime Minister Benjamin Netanyahu in Jerusalem after the two held two meetings over the past two days.
US, Israeli, and Palestinian officials have declined to disclose details of the talks.
"Working hard," is all Kerry would say when a reporter asked him before the latest Abbas meeting whether he was making progress.
Kerry, who is on a two-week swing through the Mideast and Asia, has conducted the meetings at a breakneck pace. He even cancelled a stop in Abu Dhabi because of extended discussions on the Mideast peace process.
He had a four-hour dinner meeting with Netanyahu Thursday night in Jerusalem followed by a more than two-hour lunch with Abbas on Friday in Amman at the home of the Palestinian ambassador to Jordan. Then it was back to Jerusalem for another meeting with Netanyahu and dinner with Israeli President Shimon Peres.
On Saturday morning, he boarded a helicopter to fly back to Amman to meet again with Abbas, this time at the Palestinian president's residence there.
Later Saturday, he was to return to Jerusalem to meet with Netanyahu, Tzipi Livni, Israel's chief negotiator with the Palestinians, and Isaac Molho, a Netanyahu envoy.
Kerry is scheduled to leave Jerusalem on Sunday to head to Brunei for a Southeast Asia security conference.
---