Student loans: Interest rates set to double Monday
Student loans: Interest rates on new subsidized Stafford loans are set to go from 3.4 percent to 6.8 percent on Monday. Some are calling for an extension of the current student loan interest rates for another year.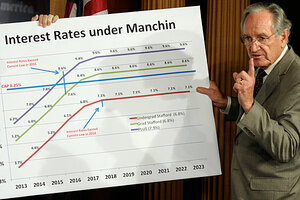 (AP Photo/Susan Walsh)
Student loan rates will double Monday — at least for a while — after a compromise to keep student loan interest rates low proved unwinnable before the July 1 deadline, senators said Thursday.
Sen. Tom Harkin, the chairman of the Senate education panel, said none of the proposals being circulating among lawmakers could win passage, and he urged lawmakers to extend the current rates for another year when they return from the July 4 recess. Harkin said his colleagues could retroactively restore the current rates after the holiday.
"Let's put this off for a year," Harkin, D-Iowa, told reporters.
Interest rates on new subsidized Stafford loans are set to go from 3.4 percent to 6.8 percent on Monday unless lawmakers take action. Congress' Joint Economic Committee estimates the increase will cost the average student $2,600.
"Neither party wants to see rates rise next week," said Sen. Richard Burr, R-N.C.
But a one-year rate extension isn't an acceptable option, either, he said.
"Last year we kicked the can down the road and passed a one-year extension for only a small group of students. ... Why would we make the same mistake again and just kick the can down the road another year?" said Burr, who was among a group of senators who worked on a competing proposal with Sen. Joe Manchin, D-W.Va.
The Manchin-led proposal would link interest rates to the financial markets. It borrowed heavily from a version House Republicans passed earlier and from principles included in President Barack Obama's budget proposal.
Critics called it a bait-and-switch move that would provide students lower interest rates at first before they climb upward as the economy improves.
"Students across this country would rather have no deal than a bad deal," said Sen. Jack Reed, D-R.I. "We're at the point where we have to do our best to extend the 3.4 percent interest rate while we work on a good deal, not just any deal."
Republicans blamed Democrats and said they would be responsible for the expected rate hike.
---