Texas abortion fight, Round 2: Why a filibuster won't work again
Texas abortion fight: Governor Rick Perry has called a second special session, this one lasting up to 30 days, to take up the abortion bill that Democratic lawmakers, led by filibustering state Senator Wendy Davis, ran out the clock on last week.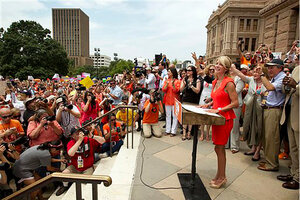 Jay Janner / Statesman.com / AP
State troopers lined the halls of the Texas Capitol, and 5,000 protesters rallied outside against proposed abortion legislation, as lawmakers convened Monday for a second special session that Republican leaders pledged wouldn't descend into chaos like the first.
The Texas House and Senate each met for less than an hour before recessing for the week. That was just long enough to schedule new committee hearings for the proposed restrictions that would make Texas one of the toughest places in the nation for women to get abortions.
Less than one week earlier, Democrats scored a rare victory in the GOP-dominated legislature by running out the clock on the first special session.
Democratic Sen. Wendy Davis of Fort Worth was on her feet for more than 12 hours — speaking most of that time — during the Democratic filibuster. When Republicans used parliamentary technicalities to silence her, hundreds of protesters in the public gallery and surrounding Capitol corridors cheered so loudly that work on the bill couldn't be completed before the midnight deadline.
"You're going to see a completely different debate this time around," said Rep. Steve Toth, a Republican from The Woodlands. "We're not under that kind of timeline this time around."
Lt. Gov. David Dewhurst took no chances with raucous protesters in the second special session on Monday. Security was much tighter than before, with troopers — some of them in riot gear — throughout the Capitol complex.
When protesters filed into the House and Senate galleries, pages provided them with copies of the rules warning them that if they disrupted the proceedings, they'd be ejected. There were no arrests or any incidents of violence reported.
---