Homer Bailey racks up another no-hitter
Homer Bailey threw his second no-hitter in 10 months and the first in MLB this season. Thanks to Homer Baily pitching, the Cincinnati Reds posted a 3-0 win over the San Francisco Giants Tuesday.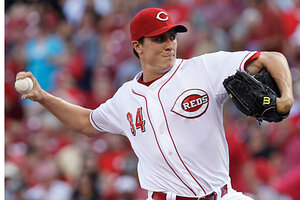 (AP Photo/Al Behrman) Homer Bailey
The Ryan Express has an honored passenger, a hard-throwin' fellow Texan who wears the same number and has a nickname derived from a movie.
Homer "Batman" Bailey? Come aboard!
The right-hander made a little no-hitter history on Tuesday night, throwing his second in 10 months and the first in the majors this season. The Cincinnati Reds' 3-0 win over the struggling San Francisco Giants gave Bailey another moment as big as his home state.
It was Ryan-esque.
"Obviously being from Texas and what a legend he is," said Bailey, who wears No. 34 in tribute to his boyhood hero. "To do it once is extra special. To do it twice — I don't really have the words for it right now."
They do back home.
"He comes from the state of Texas that has produced a lot of no-hitters," said Reds manager Dusty Baker, who made the final out in Nolan Ryan's fifth no-hitter. "It means a lot — and he's still got some time left."
Ryan holds the record with seven career no-hitters. Bailey was so enamored with the fellow Texan — Ryan hails from Alvin, Bailey from La Grange — that he chose his No. 34 to honor him. His fastball and his strikeouts aren't up to Ryan's level, but he's starting to catch up on those no-hitters.
And the folks back in Texas are paying attention.
---