House votes to delay two health care mandates: Will it matter?
The U.S. House of Representatives voted to delay two provisions of the 2010 health care reforms on Wednesday. Though the bills are unlikely to pass in the Democratic-run Senate, the votes gave Obamacare opponents a chance to express frustrations with the reforms.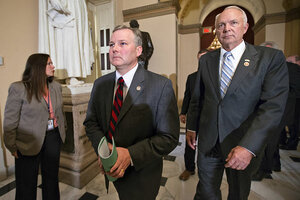 AP Photo/J. Scott Applewhite
Staging a fresh assault on President Barack Obama's signature healthcare reform law, the Republican-led House of Representatives on Wednesday approved largely symbolic legislation to delay key coverage requirements.
The measures, the 38th and 39th House bills to take aim at the 2010 reforms known as Obamacare, would delay for a year the requirement that Americans obtain health insurance and would codify the Obama administration's recent decision to delay the mandate for larger employers to offer health coverage.
The White House's surprise announcement of the one-year employer delay this month sparked a new wave of Republican anger over the healthcare law that threatens to bleed into other issues, such as government spending legislation, in the next fiscal year.
Obama administration officials have insisted that the law's core provision, the requirement for uninsured Americans to obtain subsidized coverage through new online exchanges, will remain in place. Those with no coverage will face tax penalties starting in January.
The House voted 264-161 for the individual delay, and 251-174 in favor of the employer delay, with some Democrats joining the Republican effort.
Venting frustration
The legislation stopped well short of previous efforts to fully repeal Obamacare, but gave Republicans a new chance to vent their frustration at the law and discredit it as the state-run insurance exchanges prepare to open in October.
---