F-35 Strike Fighter: Is a deal for 71 fighter jets imminent?
F-35 Strike Fighter: The F-35 is the Pentagon's biggest weapons program. The Pentagon is closing in on a deal with Lockheed to acquire 71 more of the strike fighters, say both sides.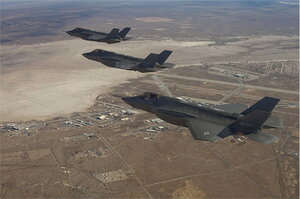 Darin Russell/Lockheed Martin Corp/Reuters/File
F-35 fighter jets – two batches of them – headline a deal between Lockheed Martin Corp. and the Pentagon that is making "good progress" toward agreement, said Lockheed's Chief Executive Marillyn Hewson on Tuesday.
Lockheed is building three models of the F-35 for the U.S. military and eight international partner countries: Britain, Australia, Canada, Norway, Turkey, Italy, Denmark and the Netherlands. Israel and Japan have also ordered the jet.
After protracted and difficult discussions on the previous order of F-35 jets, Pentagon officials had hoped to reach agreement with Lockheed around mid-year on the sixth and seventh orders, valued at multiple billions of dollars.
Air Force Lieutentant General Christopher Bogdan told company officials he wanted to reach agreement on the contracts by the end of July, according to industry sources. It may take some time afterward to finalize and sign the agreements.
The total number of jets involved is 71, with 36 planes to be purchased in the sixth production lot, and 35 in the seventh, said Joe DellaVedova, spokesman for the Pentagon's F-35 office. He said that number includes 60 F-35s for the U.S. military, and 11 for Australia, Italy, Turkey and Britain.
"We've been very open and transparent with our data and I think the negotiations are going well," Hewson told reporters after the company reported higher-than-expected second-quarter earnings.
"We've making good progress and we hope that we'll be able to close in the near term," she said, also citing strong Pentagon and international support for the F-35 program, despite U.S. budget cuts.
---