Martina Hingis: Her second comeback wows the crowds
Martina Hingis, a five-time Grand Slam singles champion, began her second comeback to the Tour Wednesday night in a doubles match with Slovakia's Daniela Hantuchova in the Southern California Open.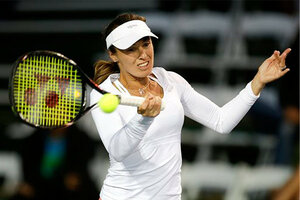 Chris Carlson/AP
Martina Hingis won in her return to the WTA Tour, teaming with Daniela Hantuchova for a 6-1, 6-1 victory over Julia Goerges and Darija Jurak on Wednesday in the Southern California Open.
Hingis, the 32-year-old former top-ranked singled player whose last tour match was September 2007, consistently showed the deft hands that made her a nine-time Grand Slam doubles champion before a sparse crowd that gave her a warm ovation when she was introduced.
Hingis didn't touch the ball until the fifth point of the match but flashed her doubles talent when she hit a backhand volley right at Jurak for a point in the second game.
"I felt like I got more comfortable (after the first set), returning, serving, everything," she said. "For me, mentally, I felt really good after that. The (first) service game of the second set, after that game I was like, 'I'm back to normal.'"
Hingis is scheduled to play doubles with Hantuchova in four tournaments, including the U.S. Open.
"It was a great test for us and being able to beat them the way we did, it just gives us a lot of hope for the coming weeks," Hantuchova said about beating the team that reached the final of the Bank of the West Classic on Sunday.
The 'Swiss Miss' has retired twice previously, the first time in early 2003 at 22 and the last time in November 2007.
---