Body found near Vacaville ID'd as 'big-hearted' death penalty investigator
Body found Vacaville: Federal officers have identified the body found near Vacaville, Calif., as the remains of Sandra Cook, an investigator who worked to ensure death sentences were fair.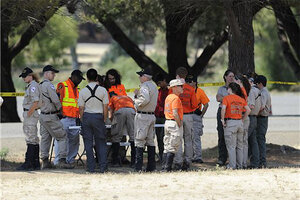 Joel Rosenbaum / The Reporter / AP
A woman's body found last week near Vacaville, in northern California, is that of a missing federal investigator, authorities said Tuesday.
The Alameda County Coroner's office has identified the body as Sandra Coke of Oakland, who had been missing since Aug. 4, Oakland police spokeswoman Officer Johnna Watson said during a brief news conference with reporters. Watson would not discuss Coke's cause of death.
Coke worked as a capital case investigator for the federal public defender's office in Sacramento since 2009. She was assigned to investigate capital cases that were appealed to federal court to ensure death sentences were fair.
In a statement Tuesday, Coke's family described her as a "shining light" and "big-hearted person" whose generous hugs will be missed.
"She passionately devoted her professional life to helping the poor and those who endured difficult childhoods," the statement said. "All of us will miss Sandra's beautiful, giving spirit."
Coke's federal court colleagues also praised her. Alex Kozinski, chief judge of the 9th US Circuit Court of Appeals, said in a statement Tuesday that Coke was an admired and respected professional working in a highly challenging area of the law who performed her duties with fairness and integrity.
"She will be greatly missed," the judge said. "Our hearts go out to her family."
---