3 Bulger jurors tell of emotional, complicated trial
In interviews with the Associated Press, three jurors from the Boston trial of mob boss James 'Whitey' Bulger tell about the jury's feelings of tension, boredom, and fear throughout a trial filled with vicious details of casual slayings.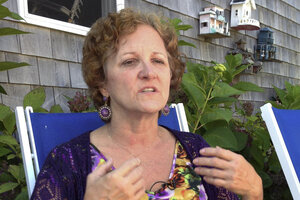 Rodrique Ngowi/AP
They started out as 18 strangers seated in a jury box, stunned they'd been chosen to decide a case the government waited nearly two decades to try while the suspect was on the lam.
Two months later, some were shaking as they stood in the jury box and heard their verdict read convicting Boston mob boss James "Whitey" Bulger in 11 slayings.
Three jurors in interviews with The Associated Press said the weeks from start to finish were a mix of tension, boredom, and fear.
The trial testimony ran through years of vicious slayings and casual brutality. It featured testimony from corrupt FBI agents, admitted murderers and the children they made fatherless. Fear among gun-owning jurors prompted some to make sure their weapons were loaded before bed.
In the end, the jury pored over every bit of evidence and made the only decision they could, said juror Janet Uhlar-Tinney.
"I'm at peace with it," she said.
Bulger was accused of participating in 19 murders in the '70s and '80s when he led the Winter Hill Gang. Prosecutors say he was an FBI informant at that time, protected by corrupt agents, including one that warned him of the indictment naming him in 1994. Bulger fled and remained free until his capture in California 16 years later.
For the 12 jurors and six alternates, the trial became all-consuming. Jurors lost weight, developed headaches and had nightmares. Juror Gusina Tremblay of Lowell said that during her train commutes, she tried keeping a journal of her thoughts but that became too much for her and she switched to playing the smartphone puzzle game, Candy Crush.
Amid the stress, the jurors got to know one another and most became friends over courthouse breakfasts of muffins and fruit. They joked about how the attorneys were so combative that they'd object to the others' objections. They eventually came to just refer to the youthful-looking prosecutor Zachary Hafer as "The Young Fed."
---