Georgia teen to face trial for shooting 13-month-old in stroller
De'Marquise Elkins, 18, could receive life in prison for allegedly shooting a baby boy between the eyes. The incident happened during an attempted robbery of the baby's mother, who was out for a walk with him in a stroller.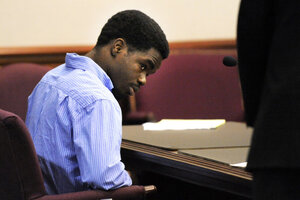 Stephen Morton/AP
It was a tiny bullet that took the short life of Antonio Santiago.
He had learned to walk, but not yet talk, when he was killed March 21, six weeks after his first birthday. He was strapped in his stroller, out for a walk with his mother a few blocks from their apartment near the Georgia coast, when someone shot the boy between the eyes with a .22-caliber bullet the size of a garden pea.
A teenager charged as the shooter is scheduled to stand trial next week in a courthouse far from the scene of the crime. Because of public outrage and news coverage, a judge has moved 18-year-old De'Marquise Elkins' trial 325 miles away, to the suburbs outside Atlanta. Jury selection starts Monday at the Cobb County courthouse in Marietta. Superior Court Judge Stephen Kelley has set aside two weeks for the trial.
Elkins faces life in prison if convicted of murder. His youth spared him from a possible death sentence. At the time of the shooting he was 17, too young to face capital charges in Georgia.
Police say the motive was as banal as the slaying of a toddler was shocking. Investigators concluded that Antonio was killed during an attempted street robbery as his mother, Sherry West, was strolling home with the child from the post office. West said a gunman demanding cash shot her baby in the face after she told him she had no money.
"He kept asking, and I just said 'I don't have it,'" West told The Associated Press the day after the slaying. "And he said, 'Do you want me to kill your baby?' And I said, 'No, don't kill my baby!'"
West was shot in the leg, and another bullet grazed her ear. Witnesses called 911 and rushed to her aid. None saw the shooting, but they watched as West tried to revive her son using CPR. "No, the baby's not breathing," one caller told a 911 operator.
Police say Elkins had an accomplice, 15-year-old Dominique Lang, who has told investigators Elkins fired the gun. Lang also is charged with murder but will be tried later. He's expected to be a key witness against Elkins.
---