Bradley Manning sentence: Will other leakers be deterred?
The man who provided hundreds of thousands of classified documents to Wikileaks was sentenced to 35 years in a military prison on Wednesday. Some activists worried the sentence would discourage leakers from coming forward in the future.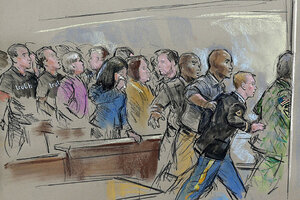 AP Photo/William Hennessy
U.S. soldier Bradley Manning was sentenced on Wednesday to 35 years in a military prison for turning over more than 700,000 classified files to WikiLeaks in the biggest breach of secret data in the nation's history.
The 25-year-old former low-level intelligence analyst, in uniform, stood quietly and showed no emotion as Judge Colonel Denise Lind sentenced him to less time behind bars than the 60 years sought by military prosecutors.
Military parole rules could allow Manning to be out of prison in seven years, his lawyer said, a fact WikiLeaks founder Julian Assange called a "tactical victory" for the defense.
But transparency activists said the sentence would still have a chilling effect on prospective leakers. The sentence, which comes at a time when the Obama administration is aggressively investigating leaks, would be the heaviest ever served for turning over secrets to the media, experts said.
Onlookers in the Fort Meade, Maryland, military courtroom gasped as Lind read Manning's sentence. The soldier's aunt, Debra Van Alstyne, closed her eyes and appeared to be holding back tears. Supporters shouted: "Bradley, we are with you."
Defense attorney David Coombs admitted to weeping upon hearing the news and said his client tried to soothe him.
"Myself and others were in tears. He looks to me and he says 'It's OK. It's all right,'" Coombs told reporters after the hearing, adding that Manning told him, "'I'm going to be OK. I'm going to get through this' ... I'm in a position where my client is cheering me up. He is a resilient young man."
---