Washington Redskins can't overcome early deficit against Eagles' new offense
Washington Redskins quarterback Robert Griffin III was supposed to lead his team to a season-opening victory. But new Philadelphia head coach Chip Kelly and Eagles quarterback Michael Vick had different ideas for the Washington Redskins.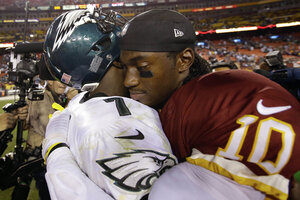 Alex Brandon/AP
After Michael Vick kneeled down for the final time, having sapped the life out of the Robert Griffin III welcome back party, the exhausted Philadelphia Eagles offense exchanged the usual pleasantries with the even-more-spent Washington Redskins defense.
"The Redskins were like, 'Next time we play you guys, you need to slow it down a bit,'" Eagles center Jason Kelce said.
Good luck with that. RG3 and the Redskins just couldn't keep up with Vick, LeSean McCoy and the frenetic offense unleashed by coach Chip Kelly on the NFL on Monday night. The Eagles crammed 53 plays into a 30-minute first half, took a 26-point lead in the third quarter and held on for a 33-27 upset of the defending NFC East champs.
"You have great dreams and you have nightmares," said Eagles owner Jeffrey Lurie, describing the first half. "That was a great dream."
Running the don't-take-a-breath attack that won 87 percent of the time during Kelly's four years at the University of Oregon, Vick completed 15 of 25 passes for 203 yards and two touchdowns, and he also ran nine times for 56 yards and a score. McCoy piled up 184 yards on 31 carries, including a 34-yard TD. DeSean Jackson had seven catches for 104 yards and a TD.
---