'Green River Killer' wants to help police find other victims
Green River Killer Gary Ridgway gave his first interview since being sent to prison for life. The Green River Killer says that he killed as many as 80 women, not 49.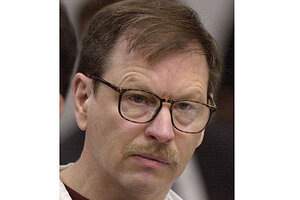 (AP Photo/Elaine Thompson, File)
Serial killer Gary Ridgway says he might be able to locate the bodies of some of his Green River victims who were never found.
Ridgway told KOMO radio that the Green River Task Force mostly kept him in a van in 2003 when he directed them to sites in the Seattle area where he dumped bodies in the 1980s. He'd like to revisit every site on foot and says he could have had as many as 80 victims.
"Ridgway is a sociopath and pathological liar" who likes notoriety, said King County sheriff's Sgt. Katie Larson, who was a member of the task force.
It's possible he killed more than the 49 women for which he was convicted, she said Tuesday. But, investigators are confident they did everything possible to recover all the victims.
Ridgway was arrested in 2001 after advances in DNA technology enabled authorities to link a 1987 saliva sample to some of the bodies. He pleaded guilty to 48 murders two years later, agreeing to help authorities locate as many remains as possible. He pleaded guilty to a 49th murder in 2011.
The killing spree took its name from the Green River where the first bodies were found.
Ridgway, 64, is serving a life sentence at the Washington State Penitentiary in Walla Walla.
---