Life, liberty, and 'liking': Court rules Facebook likes are free speech
In a lawsuit involving a campaign employees who claimed he was fired in part for 'liking' the Facebook page of his boss' opponent, a Virginia appeals court ruled liking a page could be equated to supporting a candidate at a public rally, and is protected under the US Constitution.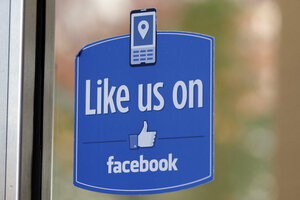 Paul Sakuma/AP
Clicking "Like" on Facebook is constitutionally protected free speech and can be considered the 21st century-equivalent of a campaign yard sign, a federal appeals court ruled Wednesday.
The 4th U.S. Circuit Court of Appeals in Richmond reversed a lower court ruling that said merely "liking" a Facebook page was insufficient speech to merit constitutional protection.
Exactly what a "like" means — if anything — played a part in a case involving six people who say Hampton Sheriff B.J. Roberts fired them for supporting an opponent in his 2009 re-election bid, which he won. The workers sued, saying their First Amendment free speech protections were violated.
Roberts said some of the workers were let go because he wanted to replace them with sworn deputies while others were fired because of poor performance or his belief that their actions "hindered the harmony and efficiency of the office." One of those workers, Daniel Ray Carter, had "liked" the Facebook page of Roberts' opponent, Jim Adams.
U.S. District Judge Raymond Jackson in Norfolk had ruled in April 2012 that while public employees are allowed to speak as citizens on matters of public concern, clicking the "like" button does not amount to expressive speech. In other words, it's not the same as actually writing out a message and posting it on the site.
---