How Obama and Rouhani aim to usher in a 'a new era of relations'
U.S. President Barack Obama and his Iranian counterpart, President Hassan Rouhani, described desires for diplomacy on the subject of nuclear armament in their speeches at the U.N. General Assembly in New York on Tuesday.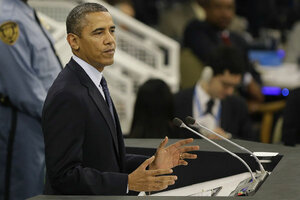 AP Photo/Seth Wenig
U.S. President Barack Obama on Tuesday cautiously embraced overtures from Iran's new president as the basis for a possible nuclear deal, but a failed effort to arrange a simple handshake between the two leaders underscored entrenched distrust that will be hard to overcome.
In a speech to the United Nations, Obama said he was determined to test President Hassan Rouhani's recent diplomatic gestures and challenged him to take concrete steps toward resolving Iran's long-running nuclear dispute with the West.
Hours later, Rouhani used his debut at the world body to pledge Iran's willingness to engage immediately in "time-bound" talks on the nuclear issue but he offered no new concessions and repeated many of Iran's grievances against the United States, and Washington's key Middle East ally, Israel.
He steered clear, however, of the Holocaust-denial rhetoric that was characteristic of his hard-line predecessor, Mahmoud Ahmadinejad, and later told CNN that the Holocaust had been a "reprehensible crime" against Jews, although the scale of it was a matter for historians.
---