Cordell Broadus, Snoop Dogg's son, on the firing of Lane Kiffin at USC
Cordell Broadus, Snoop Dogg's son, was among many USC fans approving of the Lane Kiffin firing. Snoop Dogg and Cordell Broadus are big USC supporters. Ed Orgeron will be USC's interim head coach.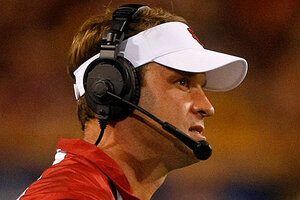 (AP Photo/Rick Scuteri)
Lane Kiffin triumphantly flew in from Tennessee nearly four years ago as the unlikely choice to extend Southern California's football renaissance.
When Kiffin's Trojans trudged home to that same airport early Sunday morning after another loss, athletic director Pat Haden couldn't wait another minute to end the divisive coach's tumultuous tenure.
USC fired Kiffin hours after a 62-41 loss at Arizona State that dropped the Trojans to 3-2 overall and 0-2 in the Pac-12. The loss was the seventh in 11 games for a powerhouse program still struggling under the cumulative effect of NCAA sanctions, but unwilling to accept such a dramatic decline.
"It's never the perfect time to do these things, but I thought it was the right time," Haden said.
Ed Orgeron will be USC's interim head coach for the final eight games of the season before Haden chooses a permanent successor for one of college football's highest-profile jobs. Orgeron, Kiffin's assistant head coach and top recruiter, is the former Mississippi head coach.
Snoop Dogg's son, Cordell Broadus, a USC prospect and the No. 6 high school wide receiver in the nation, according to 247Sports, approved the move.
"I feel that he should have been fired a while ago and USC is going to raise the bar now because the new coaching staff next year and I'm anxious to see what they are going to look like," Broadus told 247Sports.
Haden broke the news to Kiffin in a 3 a.m. meeting at the Trojans' private airport terminal, but not before a 45-minute chat in which Kiffin tried to change Haden's mind. Haden didn't hire Kiffin, but had been firmly behind the coach in public until Saturday, when the Trojans matched the most points allowed in school history.
---