JFK's vision for mental health care remains unrealized
President Kennedy's Community Mental Health Act, with the goal of treating people with mental illnesses at home rather than in state institutions, turns 50 this month. While the legislation had some positive impact, it was never fully funded or implemented.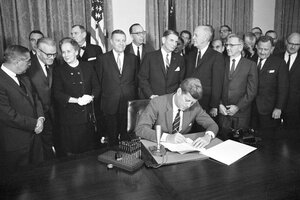 Bill Allen/AP/File
The last piece of legislation President John F. Kennedy signed turns 50 this month: the Community Mental Health Act, which helped transform the way people with mental illness are treated and cared for in the United States.
Signed on Oct. 31, 1963, weeks before Kennedy was assassinated, the legislation aimed to build mental health centers accessible to all Americans so that those with mental illnesses could be treated while working and living at home, rather than being kept in neglectful and often abusive state institutions, sometimes for years on end.
Kennedy said when he signed the bill that the legislation to build 1,500 centers would mean the population of those living in state mental hospitals — at that time more than 500,000 people — could be cut in half. In a special message to Congress earlier that year, he said the idea was to successfully and quickly treat patients in their own communities and then return them to "a useful place in society."
Recent deadly mass shootings, including at the Washington Navy Yard and a Colorado movie theater, have been perpetrated by men who were apparently not being adequately treated for serious mental illnesses. Those tragedies have focused public attention on the mental health system and made clear that Kennedy's vision was never fully realized.
The legislation did help to usher in positive life-altering changes for people with serious illnesses such as schizophrenia, many of whom now live normal, productive lives with jobs and families. In 1963, the average stay in a state institution for someone with schizophrenia was 11 years. But only half of the proposed centers were ever built, and those were never fully funded.
Meanwhile, about 90 percent of beds have been cut at state hospitals, according to Paul Appelbaum, a Columbia University psychiatry professor and expert in how the law affects the practice of medicine. In many cases, several mental health experts said, that has left nowhere for the sickest people to turn, so they end up homeless, abusing substances or in prison. The three largest mental health providers in the nation today are jails: Cook County in Illinois, Los Angeles County and Rikers Island in New York.
---