Bud Adams dies: Titans owner Bud Adams stayed with his team over 60 years
Bud Adams, who helped create the American Football League, has owned the Tennessee Titans since he founded them as the Houston Oilers over six decades ago. He moved the team to Tennessee in 1997.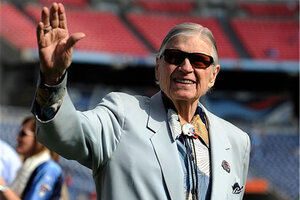 Joe Howell/AP/File
Tennessee Titans owner Bud Adams, who helped found the American Football League and whose battles for players helped lead to the merger with the NFL, has died. He was 90.
The team announced Monday that Adams had "passed away peacefully from natural causes."
The son of a prominent oil executive, Adams built his own energy fortune and founded the Houston Oilers. He moved the team to Tennessee in 1997 when he couldn't get the new stadium he wanted in Houston. The franchise, renamed the Titans, in 2000 reached the Super Bowl that Adams had spent more than three decades pursuing.
Coach Mike Munchak said Adams was willing to spend money to help his team win, remembering how he ordered the Titans to chase free agent Peyton Manning in March 2012. The Titans also spent more than $100 million this offseason on players, and Munchak said their challenge now will be winning the Super Bowl in his memory — the one item missing from Adams' legacy.
"That'll be our challenge going forward," Munchak said.
Funeral plans have yet to be announced. Munchak said the Titans will decide later how to remember their founder.
Adams' 409 wins were the most of any current NFL owner. He notched his 400th career win in the 2011 season finale when his Titans defeated the team that replaced his Oilers in Houston, the Texans. His franchise made 21 playoff appearances in 53 seasons, eighth among NFL teams since 1960.
"I consider Bud one of the founders of the game of professional football because of his role in helping to create the American Football League," Dallas owner Jerry Jones said.
NFL Commissioner Roger Goodell described Adams as a pioneer and innovator.
---